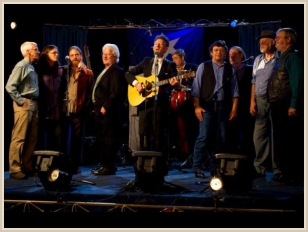 Denice joined Lyle Lovett and some of the other musicians featured in the documentary
For the Sake of the Song: The Story of Anderson Fair
for the Houston PBS television premiere of the film on September 21.
After the airing of the movie, they performed live in the studio.
Photo by Houston Chronicle, Cody Duty
It's Here! Now available on DVD,
For The Sake of the Song: The Story of Anderson Fair
Order your copies today at andersonfairthemovie.com
Denice is proud to be a part of the documentary film of one of America's longest running and beloved venues, Anderson Fair.
For the Sake of the Song: The Story of Anderson Fair premiered at SXSW Film Festival on March 17, in Austin, TX at the Paramount Theater.
For The Sake Of The Song: The Story of Anderson Fair is a film about one of Texas' and America's unsung cultural treasures and the significant role it has played in preserving an American musical tradition. For forty years, Houston's legendary folk and acoustic music venue, Anderson Fair Retail Restaurant, has fostered and nurtured some of the most important musical performers and songwriters in America including Grammy Award-winning artists Nanci Griffith, Lyle Lovett, and Lucinda Williams. This film tells the compelling saga of how a devoted family of volunteers, patrons, and artists transformed a politically subversive little coffee house and restaurant into a unique music institution.
A documentary about a little place in Texas where big things happen… &nbsp &nbsp &nbsp &nbsp The Movie Trailer
For updates and screenings in your town, visit andersonfairthemovie.com
or become a For the Sake of the Song friend on Facebook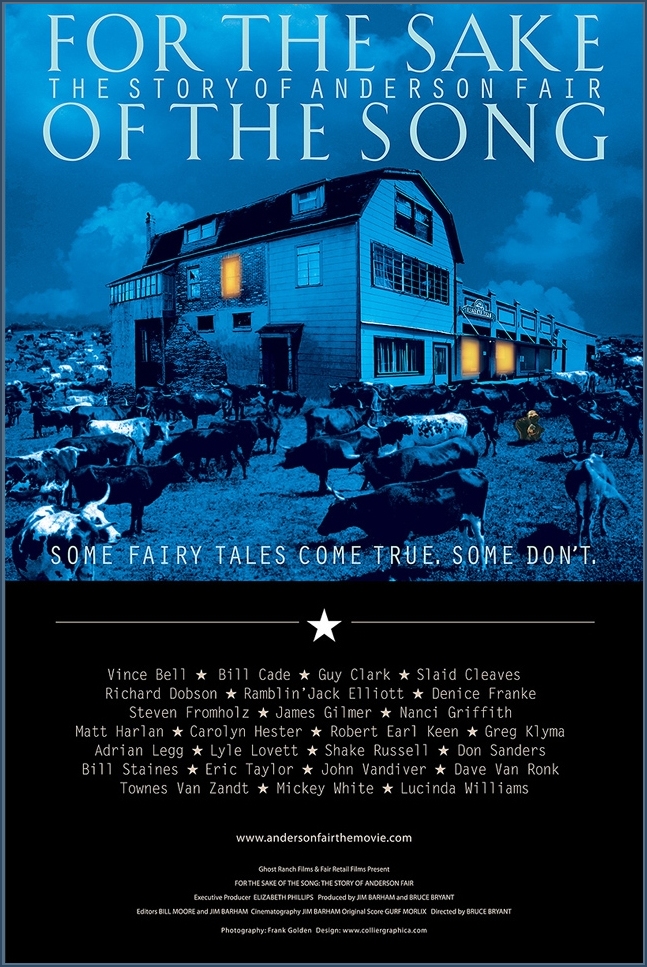 &nbsp &nbsp There was San Marcos. And Austin. And Houston, and bars and auditoriums and coffee shops the world over. There were collaborations with some of the greats of American song, including Nanci Griffith and Eric Taylor. There was time as a bartending folk singer, or a folk singing bartender. But, for Denice Franke, it was Galveston that did the trick. Crossing the causeway, there was something that happened to the air, and it made the breathing seem easier, and it kept the guitar strings in tune.

&nbsp &nbsp "It's a weird thing, this feeling that immediately came over me when I would come on to the island," said Franke, whose new Gulf Coast Blue album is a series of portraits and postcards straight out of her new home of Galveston. "Whatever it was, it put me totally in the moment. I took time to walk the beach and play guitar and read and work on songs, and I could dig my heels down and get into stuff that I wouldn't in a noisy environment."

&nbsp &nbsp Produced by Mark Hallman (Carole King, Eliza Gilkyson), Gulf Coast Blue is an invitation to terrains internal and external, beautiful and complex. There's grit and danger here. There are secrets revealed and secrets kept close, and motorcycles and sad motels. And there's a feeling that this is something distinct and different from Franke's first two solo albums, each of which were recorded by Lone Star muse Taylor. This isn't a back turned to Franke's past, but it's a page turned, with roots in folk and branches outstretched towards blues and rock.

&nbsp &nbsp "You go in to the studio with a clear picture of how it'll play out, and then you get something else," she said. "And that's what you want: You want the songs to do what they're going to do."

&nbsp &nbsp On Gulf Coast Blue, Hallman wraps Franke's voice - an instrument that conjures silk and smoke and dusk and other lovely things - within textured settings. Spare piano and percussion adorn "Weather Is Fine," while "Gibraltar" and "Cool Water" are fleshed out with organ, bass and amped-up guitars. Franke's acoustic guitar is the album's instrumental centerpiece, and she plays that guitar with a musical eloquence that is uncommon in this era of bang 'n' strummers. The guitar, the voice and all else work in service to songs populated by seekers and wonderers.

&nbsp &nbsp "A lot of the characters in these songs, their lives are associated with the gulf and the water and those surroundings, and the gulf coast ties them all in," Franke said. "It's a collage of different folks who present themselves."

&nbsp &nbsp Franke is one of those folks, opening windows to herself as she shines light on Sergio and Tara Lee, the Harley girl and the woman whose skirt "whips like liberty." It's a soft light that Franke shines. It's short of flattering, because flattering is too close to pandering. But there's a kindness inherent in her portraits, just as there's a kindness inherent in the artist. For decades, Franke has worked back roads and highways, touring and recording with Griffith and Taylor, Hal Ketchum and plenty of other notables. After all that, she has emerged with a bag of beguiling words and melodies, and with a wholly unique way of singing and playing for people. Lay your worries down, baby. Leave the nightingale to sing.